Gallery Půda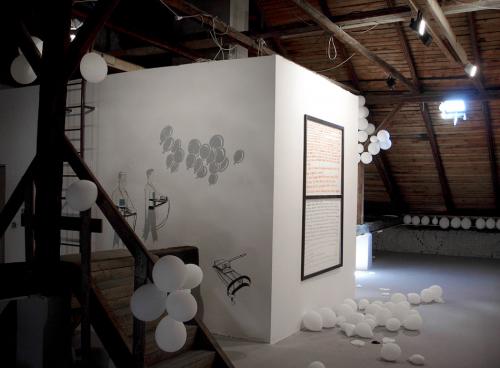 city:
Jihlava
address:
Joštova 27, Jihlava
curator:
Lucie Berková, Denisa Krausová, Lukáš Veverka a Michal Tlusták
telephone:
+420 603 145 660
e-mail:
puda.jihlava@seznam.cz
www:
http://www.galeriepuda.net
opening hours:
pondělí až čtvrtek 15 – 17h
gallery opened:
01.01.2002
opening hours: Mon – Thu 3 – 5 p.m.
gallery opened: 01-01-2002
Gallery Půda (Attic) in Jihlava is a nonprofit exhibition space whose position oscillates between two major regions – Prague and Brno. The gallery is located in a specific attic interior, which makes it, with its large generous space, ideal for projects of students or graduates from art colleges. It gives them opportunity to exhibit their artworks totally in their own way. Curatorial team Lucie Berková, Denisa Krausová, Lukáš Veverka and Michal Tlusták struggles to involve all contemporary art forms, from painting, objects and installations to video art. The operating of the gallery is ensured by civic association Galerie Půda, o. s. The gallery disposes of high quality website with the exhibition archive, the exhibition are well documented as well on: http://artycok.tv
Artists:
Vasil Artamonov, Alexey Klyuykov, Václav Girsa, David Böhm, Jiří Franta etc.