GUM studio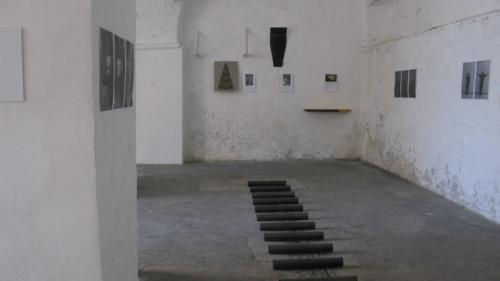 city:
Torino, Italy
address:
Via Aosta 16bis
curator:
Helena Hladilová, Namsal Siedlecki
e-mail:
studiogum@gmail.com
www:
http://gumstudioinfo.blogspot.cz
opening hours:
sobota a neděle 18 - 20h, kdykoliv jindy po domluvě
gallery opened:
01.11.2008
opening hours: Sat - Sun 6 – 8 p.m., anytime upon agreement
gallery opened: 11-01-2008
GUM Studio is an independent gallery led by artists for artists in Carrara in Italy. In its foundation and production participates Czech artist Helena Hladilová who is a graduate from FaVU VUT in Brno and who studied also at Carrara Academy of fine arts, now she lives in Carrara. The cofounders of the gallery are the graduates from the academy in Carrara, James Harris and Namsal Siedlecki. Helena Hladilová and Namsal Siedlecki curate some exhibitions in GUM Studio, but they leave more space for external curatorial projects. The profile of the gallery is due to Helena Hladilová focused as well on presentation of Czech art on Italian grounds. The exhibition space was founded by the artists when still the students with an urge to confront contemporary art with local tradition. The name of the gallery was derived from the tags "GUM" which decorated the walls and the entrance of the gallery even before its opening. In 2010 became the gallery with exhibition CZECH POINT / transfer of location part of the program of the International Biennale of Sculpture.
GUm studio began in November 2008 in Carrara as an independent gallery space, managed by artists for artists. From autumm 2011 moved to Turin.
Artists:
Alis/Filliol, Marco Bertozzi, Mario Ciaramitaro, Aleš Čermák, Peter Demek, Andrea De Stefani, Francesco Di Tillo, Vaeceslav Druta, Kateřina Dřžková, Tomáš Džadoň, Andrea Galiazzo, Martino Genchi, Jan Haubelt, Jiří Kovanda, Jan Krtička, Radim Labuda, Renato Leotta, Veronika Neumanová, Robert Pettena, Emiliano Pistacchi, Gianandrea Poletta, Jiří Skála, Filip Smetana, Matěj Smetana, Pavel Sterec, Mario Tomè, Alexandro Tripodi, Elisa Troiano, Robert Vlasák