Gallery NF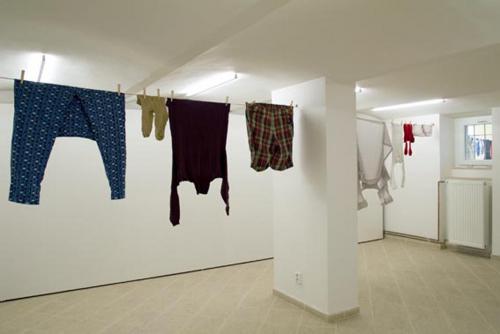 city:
Ústí nad Labem
address:
Resslova 1717/8, Ústí nad Labem
curator:
Luděk Prošek
telephone:
+420 776 726 184
e-mail:
gnf@email.cz
www:
http://www.gnf.wz.cz/
opening hours:
út 17-19h, st 16-18h, čt 10-12h nebo po telefonické domluvě
gallery opened:
24.03.2009
opening hours: Tue 5 - 7 p.m., Wed 4 - 6 p.m., Thu 10 – 12 a.m. or upon phone agreement
gallery opened: 03-24-2009
Gallery NF is an independent gallery founded in the cellar tract opposite of the university campus FUD UJEP near the city centre of Ústí nad Labem. Exhibition program of the gallery is not clearly defined it's rather an outcome of communication between the individual artists. The gallery does not depend on the curatorial project and thus it establishes an independent communication platform among the artists. Other criterion of the gallery is to reduce the production costs of the exhibitions to minimum. The choice of exhibiting artists is based on principle of a relay. Result is the gallery environment based on chance, non predictability, responsibility of the artist and his/her subjective choice. The initiators of the gallery NF, Luděk Prošek and Eva Mráziková, addressed, after their own exhibition Kurátor is a trap, Dominik Lang, who passed the baton to Markéta Othová. She handed it over to Jiří Thýn, who introduced himself in October 2009. Thus the gallerist struggle systematically to eliminate the curatorial aspect of contemporary gallery functioning. The only exception being for example two holiday-time exhibitions: Body of Luděk Prošek and Enterprize 2009. Next selection of the exhibiting Jan Haubelt (2009-10), Vasil Artamonov, Alexey Klyuykov (2010), Filip Cenek (2010), Sylvie Brodi (2010-11), Pavel Švec (2011), Petra Steinerová (2011)

The gallery appeared as the reaction to the condition of contemporary art representation in Ústí nad Labem, as an attempt to interfere with the stereotypes given by the curator profiled program of Emil Filla Gallery (which is currently moving from the premises of Cultural House into more alternative space of old Armature) and the field of academic activities of FUD UJEP and the Department of visual culture PF UJEP. The ambition of the gallerist, Luděk Prošek, is to enrich the contemporary art scene in Northern Bohemia with an alternative gallery space focused mainly on young artists and their intimate author exhibitions. The gallery is located between two backyards and with its background it directly inspires the site-specific projects.