Exhibition
Turnkey Exhibition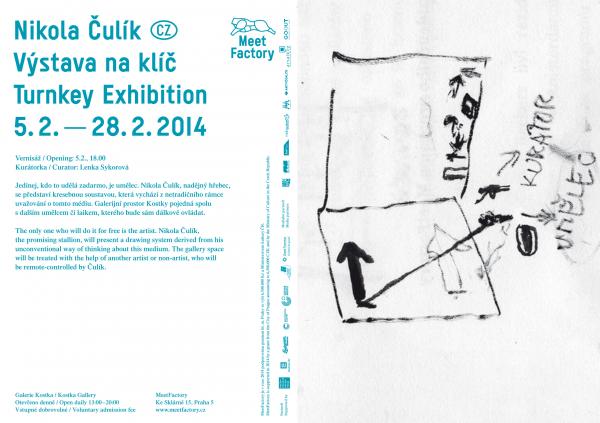 GALLERY KOSTKA
NIKOLA ČULÍK (CZ): TURNKEY EXHIBITION
curator: Lenka Sýkorová
production: Venuše Tesnerová
opening: 5. 2. 18.00
exhibition duration: 5. 2. - 21. 2. 2014
The only one who will do it for free is the artist. Nikola Čulík, the promising stallion, will present a drawing system which is based on a non-traditional framework of thinking about this medium. Inside the Kostka gallery space the work will be created together with another artist or non-artist, who will be remote-controlled by Čulík.
Nikola Čulík is a well-known artist throughout the Czech visual art scene. Čulík graduated three years ago from the drawing studio of Jitka Svobodová at AVU and has continued to express himself predominantly through drawing. More recently, however, Čulík has been working with his drawings in the context of 3-dimensional spaces. For Kostka I approached the artist with these overlaps in mind. I began to wonder how a very intimate medium such as drawing could truly dominate a non-traditional gallery space. The inspiration for this exhibition project sparked from an exhibition Čulík participated in at the mobile gallery Jádro, which took place last spring in Barrandov.
The author presented his drawings breaking the traditional framework in an exhibition called Life and Work in the beginning of 2013 at Staroměstské radnice (Old Town Hall). There, his work had moved into an intermediate plane. Since then, however, Čulík has reached an even further shift by becoming free of unnecessary means of expression. New perspectives of points, lines, and their connections in the form of arrows is an ideal demonstration of the deepest human emotions. This idea was elaborated in the aforementioned exhibition at gallery Jádro. For this exhibition at gallery Kostka, he has returned to this implementation principle of his drawings inside a space. Kostka references the Jádro space, however using a much larger area.
Turkney Exhibition is a site-specific project that creates a new experience with drawings into which one can enter. At this point, my curatorial intervention begins. I have intentionally complicated the process through inviting Nikola Čulík not only as an artist, but also a curator, choosing another artist or non-artist to realize and create the exhibition. Čulík will therefore become the content of this show, while the chosen assistant will stand for its form. This game poses questions about the roles and influences of the artist, curator and creator of the exhibition.
---
Nikola Čulík (*1983) lives and works in Prague. Drawing is Čulík's main medium of expression, and linking his life to his work is the hallmark of his art. The artist graduated from the drawing studio of Jitka Svobodová at the Academy of Fine Arts in Prague, where he studied during 2005-2011. His drawings stand out for their original concepts, which combine autobiographical remarks while simultaneously commenting on the Prague art scene. His exhibitions especially display these experiments of authenticity and spontaneous speech. Čulík's creations transcend the borders of post-conceptual drawings to the plane of current visual trends. Some of his recent exhibitions include Intimate Fire (2009) in Prague at the House of the Golden Ring, Člověčina (2011) at 35m2 gallery, and Black Soul (2012) at Altana Klamovka.
-----------------------------
Open daily 1- 8pm
Voluntary Admission
Guided tours for the public and special interest groups and school workshops are possible for this exhibition.
Contacts and more inforation:
Petr Hrubeš - PR and promotion
petr@meetfactory.cz
+ 420 602 367 552
Karina Pfeiffer Kottová - Curator
karina@meetfactory.cz
+ 420 732 464 434
For the year 2014, MeetFactory is supported by a grant of 6.500.000 CZK by the City of Prague.