36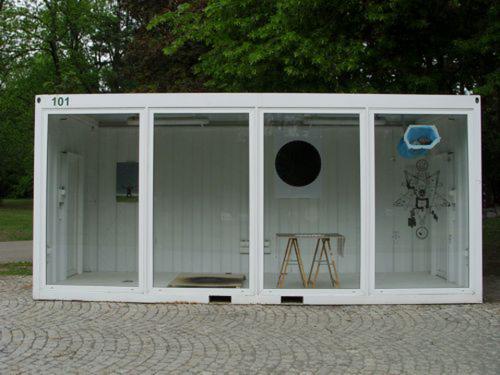 city:
Olomouc
address:
Na výstavišti Flora, Olomouc
curator:
Lenka Vítková
telephone:
+420 777 773 445
e-mail:
vitkovalenka@gmail.com
www:
http://www.36.cz
opening hours:
nonstop
gallery opened:
15.02.2006
gallery closed:
31.12.2010
The artist and curator in one person, Lenka Vítková, has begun since February 2006 to draw attention of both the general public and theoreticians to an ordinary exhibition stand 36, of the size of 3 x 10m, on Flora Olomouc exhibition grounds. She started to organize here regularly exhibitions of contemporary visual arts. The mere idea of exhibiting in public space is of no surprise today, but here the opportunity was created for artists, who are willing to create in a specific, permanently opened exhibition space, i.e. large container in a park. The finality of exhibited works in a restricted space, which associates the advertisement board, presents a direct challenge for artists who like to create site-specific works. Exhibition grounds Flora are situated in Smetana park, which makes the gallery accessible for wide public within the park. The original stand 36 was eventually demolished, but the compromise was made and the exhibitions are now held under the same number 36 in a different glassed-in metal exhibition container of the size of 2,5 x 6m.
Artists:
Jan Nálevka, Pavel Ryška, Martin Horák, Michal Kalhous, Jan Šerých, Tomáš Vaněk, Pavel Sterec, Record, Václav Stratil, Sláva Sobotovičová, Tomáš Svoboda, Josef Bolf, Marek Meduna etc.