Umakart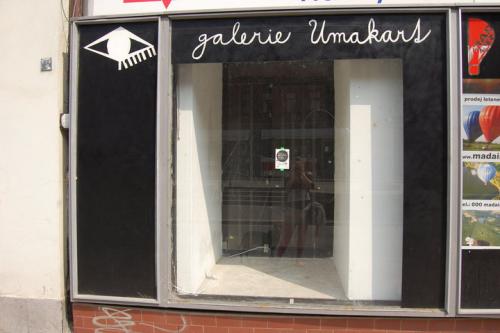 city:
Brno
address:
Lidická 40
curator:
Karin Písaříková, Tereza Rullerová, Kateřina Olivová, Šimon Kadlčák, Barbora Trková, Tomáš Javůrek
telephone:
+420 737 130 627
e-mail:
tereza@ruller.cz
www:
http://umakart.tumblr.com/
opening hours:
nonstpo
gallery opened:
01.06.2008
Gallerie Umakart is an art gallery in Brno, Czech Republic.
The goal of Gallery Umakart is to directly present contemporary art, works of students and graduates from FaVU (faculty of fine arts) to passers by on the street.

Two main points differentiate Umakart:
1) Visitor friendly: the visitor doesn't have to step inside to see the exhibition, which reaches out for him on the street.
2) Focus on art forms such as video art, installation, performance, that are in most art galleries scantily represented, because of practical or technical reasons.
The gallery is situated on a busy street Lidická in Brno, not far from the well known club Fléda. Umakart is a window gallery which forms part of the display-case of an administrative building. It focuses mainly on video art, installation and performance. The gallery is connected with students of FaVU VUT in Brno. The founder, Karin Písaříková, graduate of FaVU – atelier of body design - has exhibited there, apart of her schoolmates, even the progressive artworks from Japan where she attended a stage in Tokio. At the moment is the gallery curated as well by students from FaVU Tereza Rullerová (atelier of intermedia) and Kateřina Olivová (atelier of body design).
"I needed a space that doesn't have to be watched by anybody, space that would be opened twenty-four hours a day and would be viewer friendly. I don't like barriers where visitors are forced to pay an entrance fee or respect the opening hours, they are not allowed to eat, drink, talk or touch the exhibited objects, I want to make the viewing of the exhibition as easy as possible. The idea is that the gallery reaches out on the street."
Karin Písaříková in an article: Jan H. Vitvar: Brave new underground. Respekt 21/09